Morgan Documents
___________________
On this page will be found relevant documents relating to the Morgan family. Any birth, marriage or death certificate's that become available will be added here.
Frances Morgan
Birth Marriage Death
____________________
____________________
George Morgan
Birth
From the document above, it can be seen that Elizabeth states her maiden name as Briggs, yet on previous birth certificates that we have already have, she gives her maiden name as Thomas. On this certificate, the time of birth is given and we know that George was one of a twin, the other being James.
At present we are un-able to locate a marriage certificate for Penry and Elizabeth, but we have obtained a marriage certificate for a Pendry Morgan and a Elizabeth Brigs in the Pontypool district. We would expect that our Penry and Elizabeth would have married in the same district and at about the time that this other marriage took place and so the mystery deepens.
Below is the marriage certificate for a Pendry Morgan and Elizabeth Brigs.
____________________
More Certificate's
The first birth certificate is for a Pendry Morgan and although we are looking for a Penry Morgan it should be noted that his mother's name is Jemima Morgan. Pendry was born in the Pontypool workhouse at about the time we think that Penry was born and his mother was unmarried.
Our Penry's first child when she was born was named Jemima. Is this a clue to a connection between Pendry and Penry?
Below are birth certificates for some family member's but on Catherine's certificate the mother states her maiden as Biggs as in George Morgan's birth certificate. The only ones that we can be certain are family are Ethel, Penry, Phillip, Ernest and Arthur although in Arthur's case the mother Elizabeth who has registered the other birth's in her own writing now leaves an X as her mark.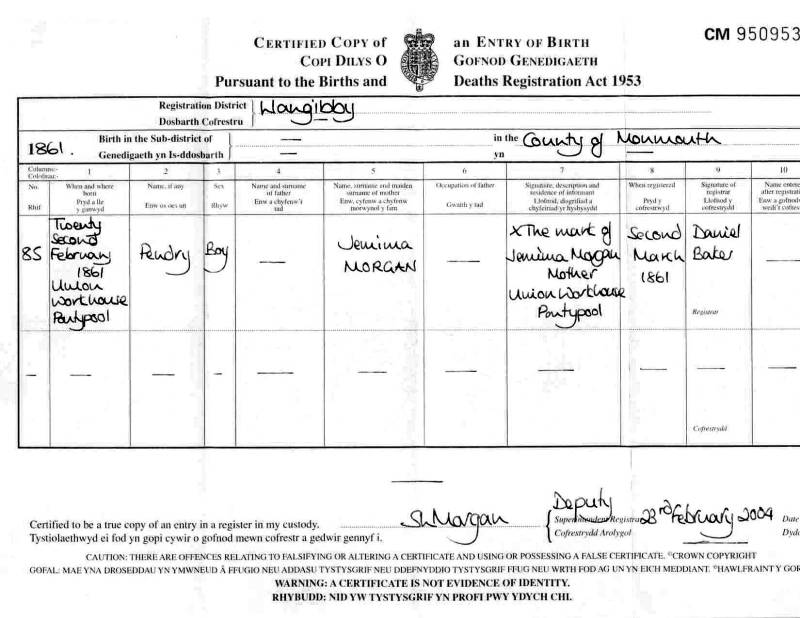 Pendry Morgan
Arthur Morgan Ethel Morgan Penry Morgan
Catherine Morgan Phillip Morgan Ernest Morgan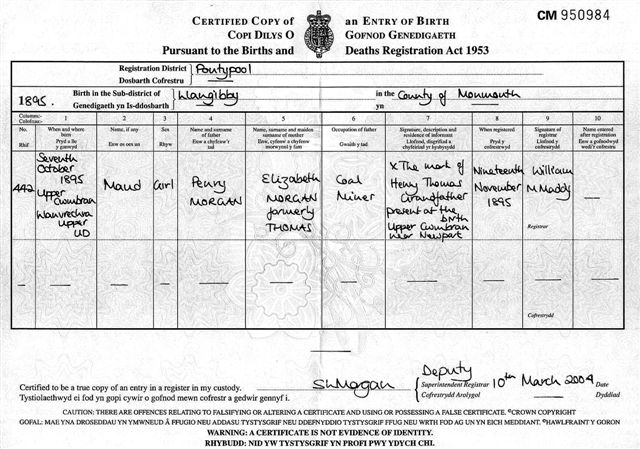 Maud
_________________
Census's
1881 1891
____________________