Morgan and related grave's
___________________

On this page are photograph's of some Morgan and related family name's graves.
____________________
Below is the grave (row D, 182) of Penry and Elizabeth (nanna and dadda Morgan) in the Holy Trinity churchyard at Pontnewydd, Cwmbran.
Aerial photo below shows the approximate area's where Nanna and Dadda Morgan's grave and the grave of the Morgan and Pearson children are.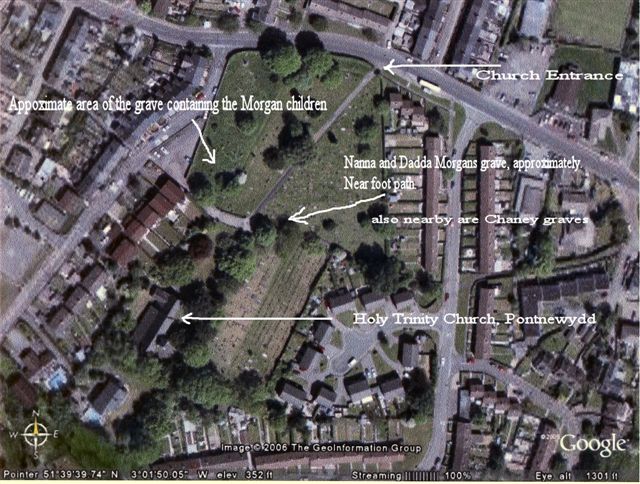 Photo from Google Earth.
_________________
Private Penry Morgan,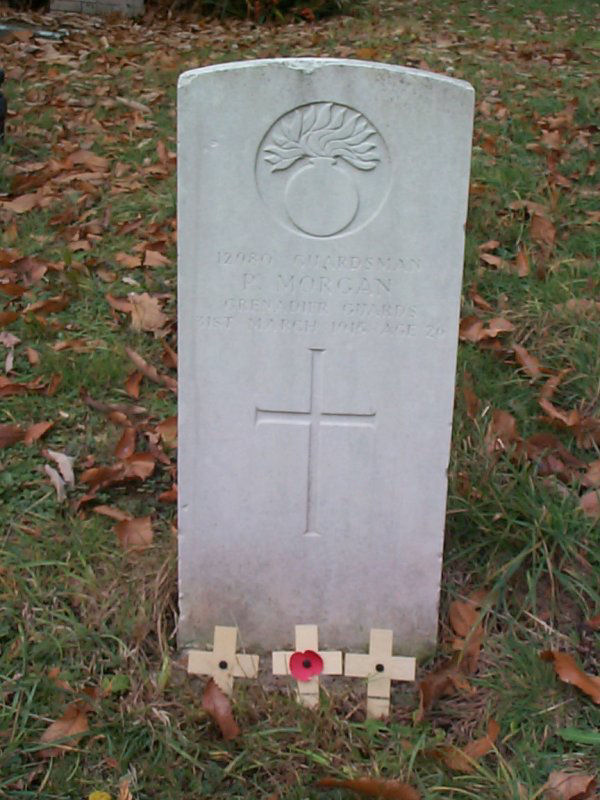 ____________________
Children.
In this area is the grave where the bodies of four children belonging to the Morgan and Pearson family lie together.
Morgan family Children
Henry Stephen Morgan 1, Raglan Street aged 7 months buried February 25, 1905
James Morgan 32, Woodlands Street aged 13 months buried July 25, 1907
Pearson family Children
Lulu Yvonne Pearson 32, Slate Row aged 23 months buried July 7, 1915
Fred Allen Pearson aged 18 days buried November 10, 1915
These children are buried in grave no. 107 at the Holy Trinity church, Pontnewydd, Cwmbran
Another Pearson child (below) is also buried in the same graveyard.
Alfred Alexander Pearson 18, The Woodlands aged 15 days buried December 30, 1910
____________________
This is the layout of the Garden Of Remembrance at the Gwent Crematorium in Croesyceilog, Gwent showing the plot number's. Each plot has a tree at each corner to mark the boundary's.
In these plots from left to right lie the ashes of William Gillard, plot 2 - Anne McGuire (nee Gillard), plot 42 - Thomas McGuire (husband of Gwynneth (nee Gillard)), plot 52.
These three plots lie in the same line.
____________________
These three graves in the Cwmbran cemetery are the Pearson family, the Cameron family and Muriel Powell (nee Gillard) sister of Anne and Gwynneth.
Buried with Muriel are the ashes of her daughter Theresa (Tessie) who died in Australia and her ashes were brought back by her son Paul. Tessie's ashes have been buried un-officially and will not show on any future record, please note it.
____________________
The first of these Chaney grave's, Sam Chaney and family is in the Holy Trinity church at Pontnewydd near to where Penry and Elizabeth Morgan are buried and the other two are in the Cwmbran cemetery.
____________________
In these graves also in the Cwmbran cemetery lie Minnie Sly (nee Morgan) and her husband James, in another is their daughter Olive and her husband Virgil Peterson.
The other two graves are of the Worsdell families, Walter and Hilda Jane and William and Ivor.
______________________
In the first grave below, Frances Gillard (nee Morgan) and her daughter Gwynneth McGuire lie. In the second are Nellie Jones (nee Tamplin), wife of Penry Morgan (jnr) and her second husband Alfred Jones.
____________________